World-class drive through the geologic wonders of northeastern California and southern Oregon offering unforgettable experiences for the outdoor enthusiasts with a quest for learning and adventure.
Read more
500-miles of Volcanic Wonders
At 14,179-feet above sea level, Mount Shasta is the tallest volcano on the Byway.
Read more
Gem of the Cascades
Explore the isolate world in one of 700 caves discovered at the Lava Beds National Monument.
Read more
EXPLORE THE DEEP
At a depth of 1,943-feet, Crater Lake is the remnant of the collapse of Mount Mazama thousands of years ago.
Read more
Deepest Lake in the United States
Millions of years ago, the earth's plates moved and molten lava exploded between the cracks, spouting high into the sky. All that fire and fury created the Ring of Fire, a circle of volcanoes around the Pacific Ocean, which today in some places is still active – with volcanoes ready to blow. One of the best places in the world to witness the results of this geologic activity is in the area that encompasses Northern California and Southern Oregon, where the landscape is dominated by soaring volcanic peaks, expansive lava flows, dramatic caves, bubbling mud pots, and steaming fumaroles. But the scenery is not the only star of this story.
When gold was discovered in the foothills of the Sierra Nevada Mountains in 1848, it sparked an international pursuit that brought hundreds of thousands of people to the West and put California on the map. Entire boom towns were built around gold mines, railroads extended their lines, and agriculture and ranching expanded throughout the countryside to meet the needs of the new settlers.
The Volcanic Legacy Scenic Byway All-American Road intertwines these two stories – one geologic, one historic – by tracing the path of countless old mining towns and five volcanoes: Crater Lake National Park, the deep caldera created by Mount Mazama's explosive eruption, Mount Shasta, Lava Beds National Monument, Medicine Lake, and Lassen Volcanic National Park. One of only 42 All-American Roads in the United States, this 500-mile Byway travels from Oregon to California and through dense, mountainous forests, broad wetlands, clear streams, and pastoral farms and ranches while whispering tales of the country's Gold Rush at every turn.
Volcanic Highlights
From the snow-capped heights of Mount Lassen and Mount Shasta to the depths of Crater Lake, signs of this region's volcanic past—and present—dot the landscape. Explore these remarkable geological features and how they helped shape the area's legacy — descend into a lava tube, climb to a crater rim, walk through a mountain of glass or soak in a volcano's crater.
Waterfall Highlights
Discover the majestic beauty of the region's most dramatic waterfalls! Along the Volcanic Legacy Scenic Byway, you'll discover some of the Northern California and Southern Oregon's best.
Battle of the Titans: A 9 Day Byway Road Trip Starting in San Francisco
Legend has it that many years ago, two Klamath gods got into a great fight. During the ensuing battle, as Llao and Skell hurled giant rocks at each other, the earth trembled and landslides of fire spilled from the mountaintops. Llao was eventually driven back into the underworld and in order to keep him there, Skell covered the opening of Mount Mazama and filled the pit with water. Today, we call that water Crater Lake. This 9-day road trip explores this natural wonder, among many others! Millions of years after the mountains and volcanoes emerged from the land, another treasure revealed itself – gold. All it took was one shiny flake for boom towns like Redding and Yreka to spring up overnight with hopefuls in search of a new life and a little bit of gold. From historic Main Streets to museums full of fascinating artifacts, history will come alive right before your eyes as you travel along the Volcanic Legacy Scenic Byway.
Nature's Wonderland: A 7 Day Byway Road Trip Starting in Klamath Falls
Calling all wildlife and nature enthusiasts! The Volcanic Legacy Scenic Byway All-American Road is a veritable who's-who of the Pacific Northwest animal kingdom. Over 200 species of birds and dozens of animals such as pronghorn antelope, mule deer, river otters, trout, and coyote live on the six National Wildlife Refuges nestled within Oregon's Klamath Basin region. Travel back in time with walks down historic Main Streets and let history be your guide as you learn the story of how the railroad and lumber industries played an integral role in the development of these communities. From homemade breakfasts at the local diner to antique furniture in 19th century inns, these cities are big on small-town charm and ready to introduce you to the Volcanic Legacy Scenic Byway.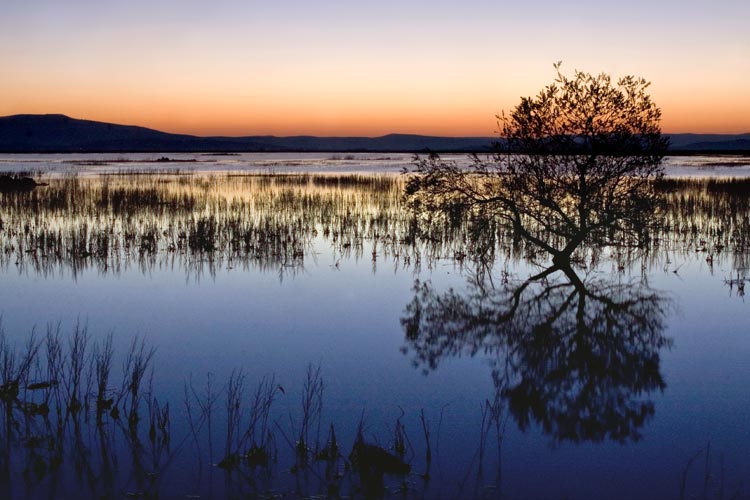 Fumaroles, Mud Pots & Lava Tubes: A 6 Day Byway Road Trip Starting in Reno
Imagine a landscape where steam rises up from the ground in sudden bursts, iridescent pools bubble and gurgle, brilliant wildflowers dot the side of towering mountains, and jagged peaks lie as far as the eye can see. No, you're not on the moon. You're in Lassen Volcanic National Park! On this stretch of the Byway, you'll wind through Lassen Volcanic National Park for 30 stunning miles, and immerse yourself in the surreal world of cracking fumaroles, banging mudpots, and plunging alpine waterfalls. Take a dip in a shimmering lake, walk beneath the shade of towering trees, listen for the distant whistle of an eagle flying high overhead, and marvel at the geologic wonders found on the Volcanic Legacy Scenic Byway.
Listen to the Past: A 5 Day Byway Road Trip Starting in Klamath Falls
Sitting at the intersection of history and geology, this route tells the tale of cities like McCloud and Mt. Shasta, where the burgeoning lumber industry helped create these mill towns practically overnight, and of Tulelake, which played a poignant role in the second World War. But American history is not the only story told on this 5 day Byway road trip departing from Klamath Falls. Millions of years ago, the land sputtered and cracked and molten lava burst through the ground, creating an otherworldly volcanic landscape dotted with towering mountains, desert caves, natural bridges, and giant lava tubes. This section of the Byway takes you directly to locations like Medicine Lake, Lava Beds National Monument, and Crater Lake National Park, prime examples of this fascinating geologic era and where you can dip your toes in an alpine lake, thousands of feet above sea level.
TRAVEL TIPS
Our #1 Tip: Just Get Started! The VLSB was designed to be explored in bite-sized pieces… A day here, a couple days there. With easy in and out entry and exit points along the route, click through this section to be inspired while getting the information you need to plan several small trips or one large one.